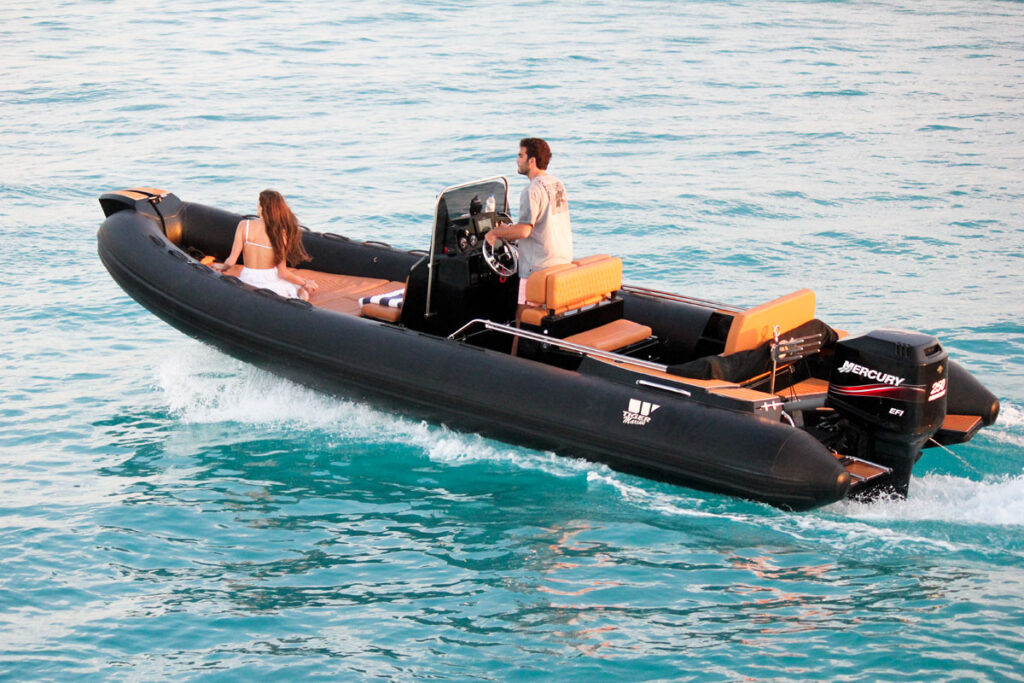 RIB – close to the elements
RIB (rigid inflatable boat) is simply explained an inflatable boat with a hard bottom/hull – either in fiberglass or aluminium. It provides proximity to the sea, safe sea characteristics and ease of use.
Thanks to a large protective pontoon around the boat, the RIB can also be a good first-time purchase – because you basically have a large fender around the entire boat. The pontoon also ensures that the boat is very stable in the sea.
RIBs provide good nature experiences, and are well suited for excursions.
RIB is suitable for almost all ages.
Typical is family use and for friends who want to go out to sea for day trips. Many RIBs can be supplied with a water ski hook and are excellent for water sports.
There are RIBs with fiberglass or aluminum hulls, and there are also several pontoon qualities where ORCA GSM Hypalon is the first choice for RIBs from 6 meters in length rather than the PVC that many people use. The reason they offer PVC is because it is cheaper for the customer but not necessarily better. Hypalon has twice as long a lifetime, is more UV resistant, less maintenance and a better used price.
RIB is sporty – and you like to sit closer to the elements.
You get close to the elements, and it's easy to move around on board
You drive around with a "big fender" and do no damage, and can easily moor to the marina or guest harbor without fear of scratches or marks
Sea conditions are often safer and more stable as pontoons "break" waves as a shock absorber.
RIB is fun and sporty with a large outdoor area and is suitable for anyone who likes sun, swimming and water sports activities.